WHAT IS A 'SEAL OF APPROVAL'?
The Seal of Approval is awarded to casinos that comply with our standards for excellence and fairness and that have successfully applied. In displaying the Seal of Approval the website carrying the seal has agreed to honor and abide by pre-determined criteria for integrity and business ethics whatever the circumstances may be.
We are proponents of fair gaming practices.
As such, our due diligence prior to issuing a Seal of Approval remains extensive; this is why our team covers essential points of a website's operations, ensuring that:
It promotes information that is accessible and understandable, eliminating ambiguity
Respects authorship and upholds copyright standards
Avoids obtaining e-mail addresses for the purposes of forwarding spam
Maintains an excellent reputation by continuously seeking to improve upon its offer and solve any issues that may arise
Adds value to users experience by providing insightful and helpful information
Acts professionally and with courtesy towards customers and partners
WHY DO I NEED ONE?
Owning a Seal of Approval is no longer a matter of choice. It's the single-most efficient way to let your customers and business partners know that your website has undergone rigorous and thorough reviewing process that has established your credentials as a genuine portal and operator.
By obtaining B.O.C.S's Seal of Approval, you will increase your user base, improve upon your short and long-term prospects, and know that you have been vetted and backed by a dedicated service of experts with years of experience in data research and risk & compliance.
Our award-winning team of casino-reviewing experts are perfectionists and so only the best online casino sites receive our seal of approval which signifies maximum criteria marks across the board.
YOUR SEAL: EXPLAINED
---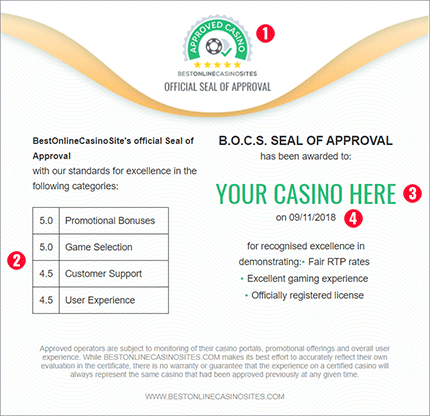 All operators are periodically re-tested with their certificate updated and re-issued or revoked.
1

Official Seal of Approval

2

Ratings scored by examiners

3

Your casino name and link

4

Date of issued seal
HOW TO TELL IF A SEAL IS GENUINE
Customers need to know they are safe simply by association with the displayed Seal but there are falsely generated seals and certificates out there.

This is why any casinos that have received our Seal of Approval will have their certificate displayed on the original, SSL-encrypted www.bestonlinecasinosites.com domain, so players will know it is secure and genuine.