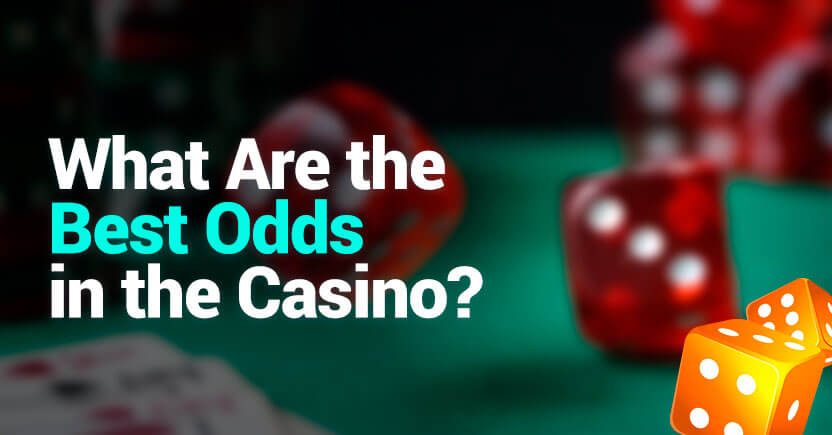 The casino industry is, without a doubt, one of the most profitable sectors on the planet and this can be almost entirely attributed to the fact that all casinos usually have the upper hand in as far as winning is concerned. Nothing says this better than the phrase "the house/casino always wins" which simply reminds us that the casino edge is both ubiquitous and inescapable.
Keeping all that in mind, you may be wondering why people still gamble. Well, there is still a chance of winning and the thrill of such an opportunity is certainly very hard to resist. Others just play for fun or to pass time.
By going in with full awareness of the odds that you are up against you will be better prepared to deal with the potential outcomes.
Since not all gambling platforms and facilities are the same, you will do yourself a solid by checking for the best odds in the casino you have chosen.
In this guide, we are going to figure out which odds best suit your preferences and gaming style to give you a more enjoyable and rewarding gambling experience.
List of casino games with the best odds:
Jump to Worst Odds: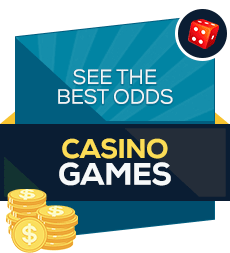 Casino Games with the Best Odds
Regardless of whether you are playing for fun or professionally if your goal is to win you will need an edge. Since the odds are already stacked against you in one way or the other, the best option you have is to find games that have the best odds. As you will come to find out, skill-based table games are usually the casino games with the best odds. To help you narrow down on the very best ones we have broken down some of the specific games below.
Blackjack
House Edge: 1% to 2%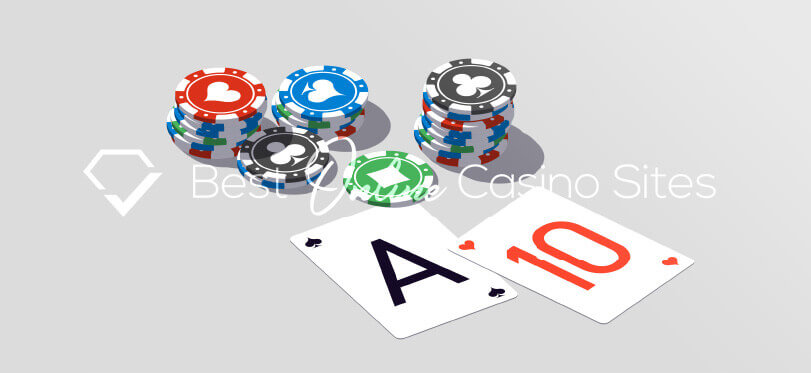 With a house edge of around 2% to 1% or even less, blackjack boasts of one of the best casino game odds. While there is still an element of luck involved, players still have the opportunity to use some basic strategy which will shift the odds in their favor thus allowing them to land more wins than losses. As if that is not enough, the game is pretty straightforward which means that it is not only easy to learn but also exceedingly fun to play. That said, it is probably one of the games that you should look to if you are looking for an experience that is not only fun but is also more likely to be profitable. To put it into perspective, the odds of winning is about 49%.
If you want to test your skills at this low house edge casino game, check out our recommended blackjack online casinos.
Craps
House Edge: 1.4%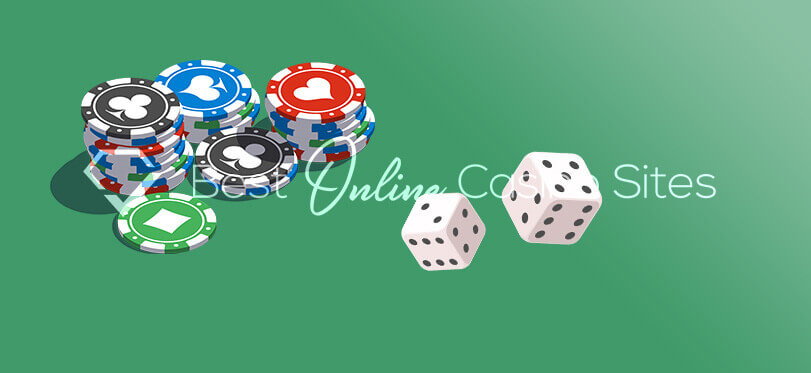 With a house edge that can drop to as low as 1.4% or less depending on where you are playing, the odds of winning when playing craps is nearly 50%. At first glance, it is almost impossible to tell that craps have the best casino table game odds due to the different kinds of bets that are involved. These make the game look very complex but the truth is that you will do your bankroll a solid by choosing to go with craps. One of the most notable aspects of the game is the "pass line" bet that guarantees you a small return even if you are a newbie.
If testing your dice rolls at a 1.4% house edge is for you, check out our recommended craps online casinos.
Roulette
House Edge: 2.7% up to 5%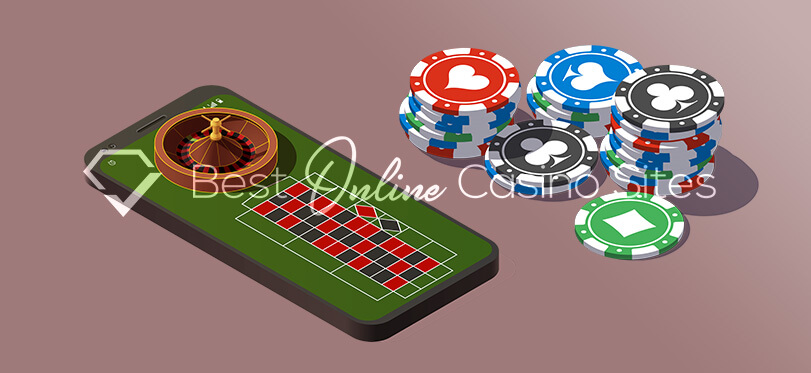 This is also one of the best odds card games in the casino thanks to its very low house edge which is typically about 2.7% but can rise to 5% or thereabout depending on the variant of the game that you will be playing. Even so, with a nearly 50% chance of winning, this game is definitely worth your time and money.  Besides that, roulette is a brilliant yet surprisingly simple game which means that every player at the table will have a blast when playing the game.
If giving the roulette wheel a spin is something that interests you, check out our recommended roulette online casinos.
Pontoon
House Edge: 0.34% up to 0.62%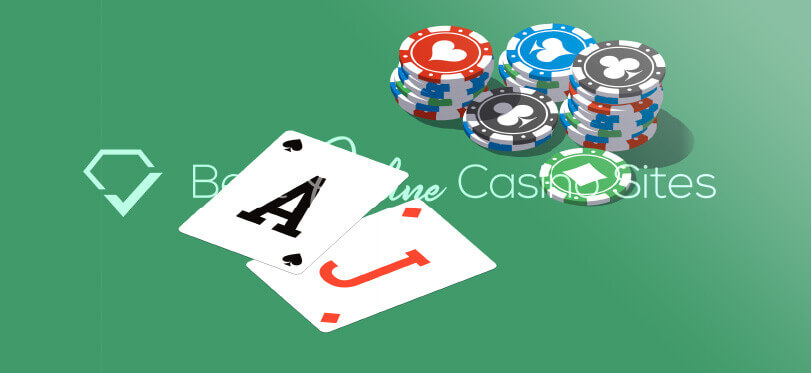 Pontoon is a very popular casino game that is highly-praised for its very low house edge that usually ranges from 0.34% to 0.62%. The game itself has a lot of similarity to other equally popular games such as blackjack – this makes the experience very familiar and, fortunately, this applies to the winning potential as well. It is, however, worth noting that due to its higher complexity, it might not be as easy to master. Still, for anyone willing to put in the work, its casino games odds will make the hassle of learning about the game totally worth it.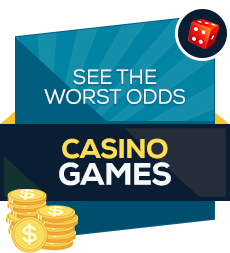 Games with the Worst Odds
Just as there are some games that you will want to look out for at the casino, there are a few that you will want to steer clear of if winning is your main goal. You can still play these games for fun but the odds of winning are pretty low and, in fact, you will likely amass more losses than wins in the long run. These games include:
Wheel of Fortune
House Edge: 11%
The casino has an 11 percent edge on this game which brings the odds of winning here to between 26% and 39%. It is worth noting that the 11% edge applies to the safest bet – betting on something like the joker will raise the house edge to as high as 24%. The payouts may be very enticing here but losing is almost always guaranteed especially if your goal is to make some profit out of it.
Slots
House Edge: 3% to 20%
Needless to say, slots are one of the most popular types of casino games not just because they offer a fun and engaging experience but also because potential payouts can be huge. However, since it solely relies on luck, players can easily burn through their cash very rapidly while playing these games. Typically, the house edge for most slot machines will range from 3% to 20%.
Keno
House Edge: 20% up to 40%
As simple as this game may seem, it is certainly one of the ones where your chances of winning are pretty slim. The house edge here ranges from 20% to 40% which is one of the highest. As if that is not enough, it does not involve any skill which means that you will be relying solely on luck. It is a fun game and can be very enjoyable when played responsibly but if you are looking to win some cash, you had better stick with the casino games with the best odds listed above.
Casino Games with the Best Odds Reddit
Reddit offers a lot of useful information on the casino games that have the best odds. Every person will agree that nearly all casino games in a casino will be a losing game in one way or the other, picking the right games is vital to a great experience especially if you want to make some profit. Some of the best subreddits on Reddit offer insightful information on the best strategies and the best games to play for anyone looking to make some money. Once you are done with this guide you can head over to the site to confirm all these claims and get recommendations on great sites and games with the best odds to play.
Frequently Asked Questions
What are the best odds in the casino?
The best odds in any casino will be as high as possible as it is with roulette, craps, pontoon, and blackjack.
What game has the best odds in the casino?
At most casinos, blackjack has the best odds of winning for the player. The house edge on the game is just 1 percent or lower.
Which casino game has the best odds?
Blackjack has the lowest edge and thus the best odds of winning at most casinos where it is offered.
Whic casino game has the best odds for a payout?
If you want a substantial payout, the game with the best or highest odds of a payout in blackjack.
What casino games have the worst odds?
The game with the worst possible odds at the casino is Keno followed closely by slots and wheel of fortune.