Blackjack Online Guide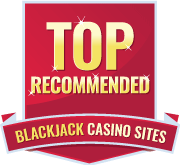 Online blackjack has always been one of our favourite casino games since the beginning of internet gambling. As we've been playing blackjack online for so many years we know exactly what players look for; we're here to share our expertise so you get the best experience possible. Learn about online blackjack with our handy guide and play at the best online blackjack sites to maximize your chances of winning real money and also have a great time!
Our Recommended Blackjack Online Casino Sites
Blackjack History
There are a number of theories about the origins of blackjack. Some think that the Spanish game of veintiuna spawned it and others believe it to be the world's oldest card game, dating back to Egyptian times. The most common theory though is that it was first played in France in the 18th century where it was known as vingt-un (21).
Wherever it was first played it spread quickly through Europe and by the late 19th or early 20th century it was being played in American casinos. Now we have blackjack online available to everyone.
Online Blackjack Rules
Playing online blackjack for real money is simple and the rules are easy to learn. The premise of the game, like in most other card-based casino games, is to beat the dealer. In online blackjack, you do this by scoring more than the dealer in a bid to be the nearest to 21 without going over.
The cards in blackjack have face value, but an ace is 1 or 11 and all picture cards are 10. The best hand in online blackjack is called blackjack and is 21 points for an ace and 10 or picture card.
Firstly, you will place your bet and then you will be dealt two cards face up and the dealer will take one face up and one face down. Now you must decide how to proceed. Your options are hit, stand, split or double down.
Hit means to take another card and can be repeated more than once.
Stand means to take no more cards and stick with what you have.
Split is when you create two hands with what you have and can only be done if you have a pair or a combination of picture cards and/or 10s.
Double down means to double your initial stake and receive one more card only.
As long as you have 21 or less you're still in the game. Once you stand the dealer plays and then settles all bets. The dealer must stand on 17 or more.
How to Play Online Blackjack
Once you know the basics you're ready to play blackjack online. There are a few more things to consider as you play.
If the dealer is showing an ace there is a chance that he has blackjack. At this point you are offered the opportunity to take out insurance. This is half your original bet and pays out at 2:1 in the event of blackjack which will see all your stake returned.
It is possible to tie with the dealer. This is called a push and also sees your full stake returned. The exception is that if you have blackjack and the dealer is showing an ace you have the option of being paid immediately at 1:1 rather than the usual 3:2 instead of risking a push.
There is a soft and hard 17. A hard 17 is for example a 10 and a 7 and a soft 17 is an ace and a 6. This is called a soft 17 because it can also be 7 (ace being 1 or 11) and you can continue to play if you wish.
Doubling down for one extra card can be done with any hand, but is best if you have a hand of 10 or 11 and the dealer is not showing an ace or 10 card.
These are the standard rules in most forms of online blackjack. There are variations of the popular game, some offering enhanced payouts for 21 obtained with three 7s for instance, but the game remains fundamentally the same.
Online Blackjack Tips
You might have heard that card counting is illegal and you'd be mistaken. It's only illegal if you're in a real casino trying to use a device or surveillance in order to help you. You can count cards during online blackjack in the following way:
Start your count at zero.
If a 2,3,4,5 or 6 is dealt add 1.
If a 7, 8 or 9 is dealt add or subtract 0.
If a 10, J, Q, K or ace is dealt subtract 1.
This might seem quite simplistic but it shows you when the best time to bet big is. When the count is high you're statistically more likely to be dealt blackjack or 20 and when the count is low you're more likely to be dealt a poorer hand.
FREQUENTLY ASKED QUESTIONS
Yes, most casinos have a free practice mode where you can play with virtual credit.
No. Blackjack is paid at 3:2 and any other winning hand is paid at 1:1 in exactly the same way.
Yes there is a strategy which tells you when to stand or hit depending on what cards you have and what the dealer has. It isn't essential knowledge, but it can be good to read up on.