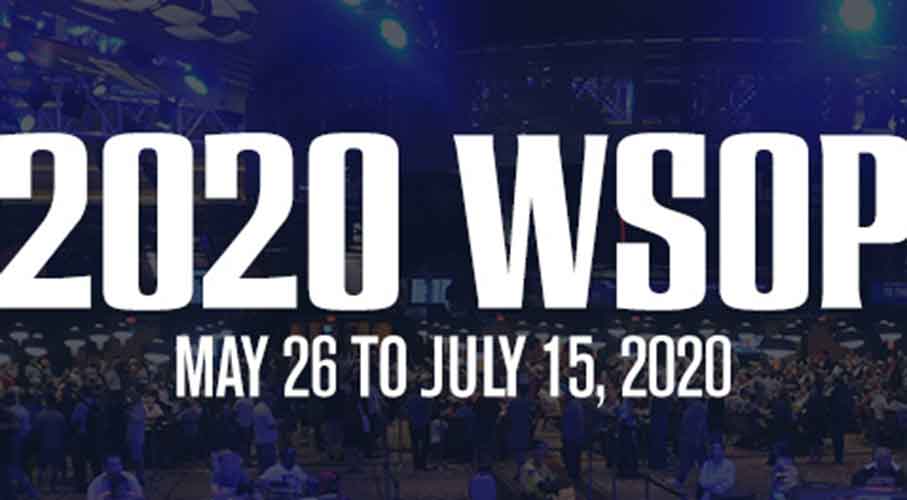 2020's online World Series of Poker (WSOP) schedule is almost complete and if you are an avid follower of the tournament series and online poker player in New Jersey or Nevada then you will be in for a treat. This year, the planners of the series have decided to increase the number of online bracelet events to 14 up from 9 in 2019.
According to WSOP.com's Director of Online Poker Danielle Barille, what they will be offering in 2020 is their best one yet. This is a pretty huge claim especially considering how good their previous events have been. As such, it is obvious that they have definitely upped their game in a number of ways.
"This year we offer a consistent schedule of Sunday events every week of the WSOP, plus a special selection of eight events from June 28 to July 5 to coincide with the biggest week of the live WSOP when most players are in town to play," she said.
Online bracelets have become one of the poker company's staple offerings over the past few years and their investment in the sector has paid off quite handsomely. For instance, in 2019, online bracelets by the operator paid out closer to $10 million. This was a record-breaking event for many reasons including the fact that it created the largest prize pool ever created in the United States' regulated market. That said, WSOP is confident that last year's success was an indicator that they needed to lay more emphasis on their online bracelet offering and they did so by adding 5 more events.
Want to Join the Fun?
Even though the company is still putting together the 2020 WSOP Schedule, the organizers have "cemented the key No-Limit Hold'em events that anchor it all." Needless to say, this is vital info for anyone who wants to be a part of the tournament action. Interested participants will now be able to schedule and plan their travel and bookings for the 51st run of the famous WSOP event.
The real-money online poker offerings from WSOP in Nevada and New Jersey will be the exclusive online destination for the states' residents to win seats into WSOP events. These include the Main Event as well as the online WSOP official gold bracelet events. Hopefully, as more states legalize poker the number of places where WSOP events will be accessible will increase.
The WSOP Online Bracelet Event Schedule
| | | | | | | |
| --- | --- | --- | --- | --- | --- | --- |
| DATE | EVENT | BUY-IN | CHIPS | LEVELS | Re-Entry | TIME |
| May 27 | Casino Employees | $500 | 25,000 | 40 minutes | 1 | 3pm |
| May 28 & 29 30 & 31 | BIG 50 | $500 | 50,000 | 50 minutes | 1/flight | 10am |
| June 5 & 6 | Millionaire Maker | $1,500 | 25,000 | 60 minutes | 1/flight | 10am |
| June 12 & 13 | Monster Stack | $1,500 | 50,000 | 60 minutes | Freezeout | 10am |
| June 17 | Ladies No-Limit Hold'em | $10,000/$1,000 | 20,000 | 60 minutes | 1 | 11am |
| June 18 | Seniors – Age 50+ | $1,000 | 20,000 | 60 minutes | 1 | 10am |
| June 19 & 20 | Double Stack | $1,000 | 40,000 | 60 minutes | 1/flight | 10am |
| June 22 | Super Seniors – Age 60+ | $1,000 | 20,000 | 60 minutes | 1/flight | 10am |
| June 22 | Tag Team – 2-person teams | $1,000/Team | 20,000 | 60 minutes | Freezeout | 2pm |
| June 24 & 25 | Colossus | $400 | 40,000 | 40 minutes | 1/flight | 10am |
| June 26 & 27 | Crazy Eights 8-Handed | $888 | 40,000 | 30/40 minutes | 1/flight | 10am & 5pm |
| June 29 | Mini Main Event | $1,000 | 60,000 | 30 minutes | Freezeout | 11am |
| July 1, 2 & 3 | Main Event | $10,000 | 60,000 | 120 minutes | Freezeout | 11am |
| July 4, 5 & 6 | Little One for One Drop | $1,000 + $111 | 40,000 | 60 minutes | Unlimited | 12pm |
| July 10 & 11 | The Closer | $1,500 | 25,000 | 30 minutes | 1/flight | 12pm |