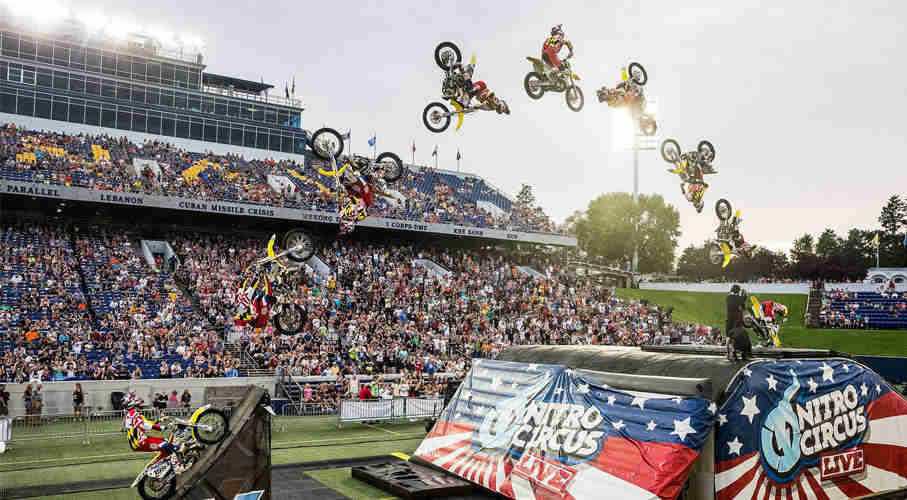 Nitro Circus is one of the hottest extreme sports around. With bikers, boarders and racers competing in larger-than-life events, viewers are treated to high-octane excitement – which has now made its way into the online gaming world with the release of Yggdrasil Gaming's new Nitro Circus online slot.
Nitro Circus at Online Casinos
Nitro Circus is the first-ever branded game from Yggdrasil Gaming, and it certainly is a doozy. Never before have online slots players witnessed a game that features such a unique sport and have been treated to such an impressive range of bonus features.
The new Nitro Circus online slot from Yggdrasil Gaming features 25 paylines, and players can wager between 10c and $125 per spin. As such, the game is ideal for players who have larger budgets as well as those who prefer to play penny slots. This wide betting range is crucial in the success of branded slots, as Nitro Circus should be able to appeal to plenty of different types of players.
There are three different bonus features available in the Nitro Circus slots game. The first is a pick-a-prize bonus triggered by two bomb symbols, allowing players to earn boosts, free spins and extra wilds. Three bombs will trigger the free spins round during which players can land multipliers to enhance their overall winning potential.
Arcade Style Bonuses
The most impressive feature of Nitro Circus is the Nitro Jump bonus, during which players complete jumps to earn prizes. It is one of the first online slots to feature an arcade-style bonus round, engaging players in a completely unique way.
For every jump that players complete, they'll earn a generous cash prize along with multipliers. Three different vehicles are available to choose from, and each one has its own perks to provide player with different odds of winning. Players can also upgrade their vehicles as they collect special boosts, and these vehicles lead to even bigger and better prizes.
This is the kind of forward thinking and innovative gaming design that makes Yggdrasil such a successful online slots developer. Over the course of the past few years, we've seen an influx independent casino games developers, saturating the market. Dozens of new games are released every month and, for design studios to stand out, they have to think outside of the box. That's exactly what Yggdrasil Gaming has done with the release of Nitro Circus.
The game does a fantastic job of depicting this exciting extreme sport and staying true to the Nitro Circus brand – while providing slots players with a great gaming experience. This game is sure to be a huge success at online casinos across the web, and we can't wait to see what Yggdrasil Gaming comes out with next.