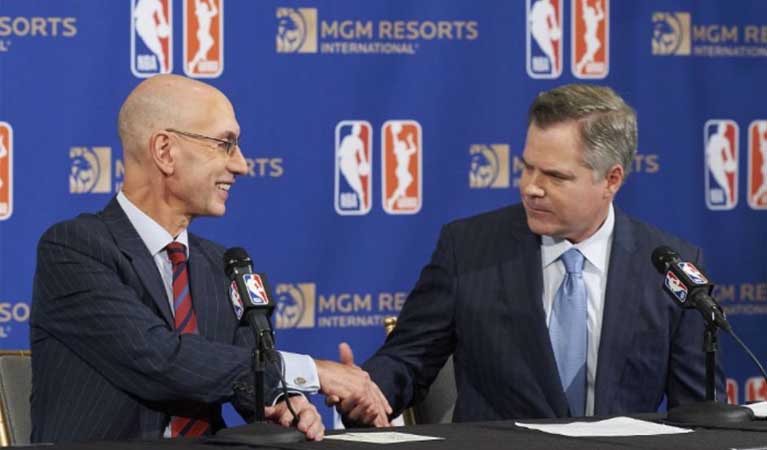 Earlier this week, MGM and GVC entered into a joint partnership which would allow the companies to create a ground-breaking sports betting platform for American players. The development was a big one, and things are moving along nicely, as the National Basketball Association has just named MGM the league's official gaming partner – which will have a huge impact on the American sports betting market.
A Huge Step for Sports Betting in America
This is a multiyear partnership that will bring together guests at MGM Resorts and NBA fans. It is a first for both companies, as the NBA has never partnered with a betting brand before and MGM has never teamed up with a major sports league.
The partnership marks an important shift in attitudes towards sports betting in America. Previously, major leagues were opposed to legalizing sports betting but the NBA is welcoming gaming operators with open arms. This move is sure to influence other American sports leagues and could help to foster early growth of the market.  This type of forward-thinking will definitely place MGM as a leader in the American sports betting industry.
As partners, MGM will feature NBA and WNBA data and branding across its online and land-based betting offerings. For example, odds boards at MGM casinos will include NBA league and team logos, and the same branding will apply to any online and mobile products.  The two organisations will also team up to protect the integrity of sport by engaging in sophisticated data sharing, as well as developing innovative new products for punters to use.
NBA Commissioner Adam Silver says:
Our collaboration will result in the best possible gaming and entertainment experience for consumers through the use of accurate, real-time NBA and WNBA data, and our collective efforts to maintain and enhance the integrity of our games.
Moving Quickly Along
The announcement of the new partnership between MGM and the NBA comes just days after the casino operator finalized its joint venture with UK sports betting brand, GVC. The two companies have entered into a $200 million deal that will see them working together to launch innovative sports betting platforms to players in states were the activity is legal.
Currently, the only states with legalized sports betting are Nevada and New Jersey, but that will soon change. Many other states are eager to open up their markets, as Pennsylvania, Mississippi, Rhode Island and New York are working out the specifics of how to effectively launch sports betting products to local players.
When these states do legalize sports betting, MGM and GVC will be primed and ready – with the NBA along for the ride. These organisations are jumping into the sports betting industry head-first, as there is huge earning potential. As the first adapters in the American sports betting market, MGM, GVC and the NBA stand to experience some significant benefits, as the industry is expected to be worth billions.