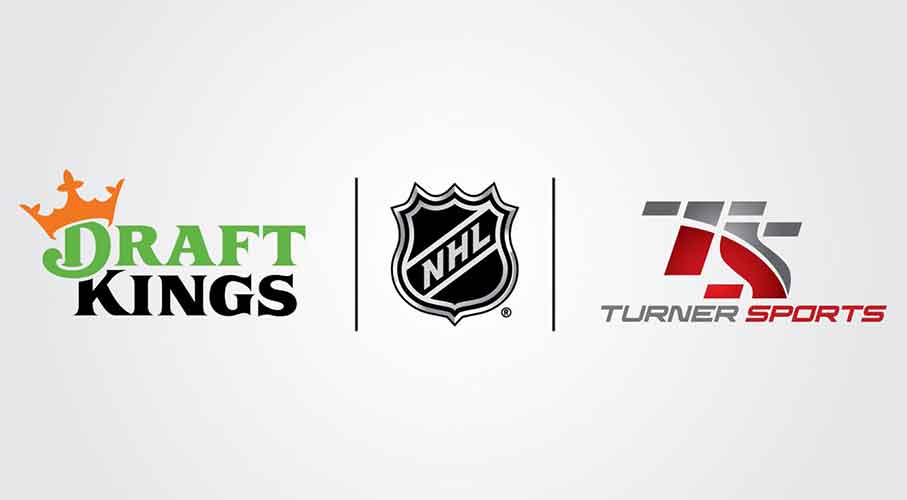 DraftKings, one of the biggest gaming brands in the United States has recently announced that it has agreed to become an Official Sports Betting, Daily Fantasy Sports and iGaming Partner of the NHL in the United States. This new wide-ranging partnership agreement also involves Turner Sports, one of the NHL's domestic broadcast partners. DraftKings' agreement with Turner Sports which also includes Bleacher Report will see the company become the exclusive sportsbook and daily fantasy sports provider for their NHL coverage.
As per the terms of the partnership agreement, DraftKings will now have access to the NHL's assets. That means the gaming operator will be able to enjoy licensed use of the league's official marks and logos. In addition to that, they will also be able to offer themed competitions across the length of the entire league season. All this will go a long way in enhancing DraftKings' wider promotional efforts during the regular season, NHL® All-Star Weekend and throughout the Stanley Cup® Playoffs and Stanley Cup® Final.
To top it all off, the agreement also creates room for DraftKings to explore various content integrations. These will apply across the NHL's robust digital and linear media platforms. Speaking on this development, NHL Chief Business Office and Senior Executive Vice President Keith Wachtel pointed out that the company is very optimistic about the new agreement. He added that they are excited about the collaboration that will allow them to develop unique and exciting content for their fans.
Stanley Cup Final and Stanley Cup Playoffs Come to TNT
Perhaps the most exciting part of the agreement between DraftKings and Turner Sports was the debut of the Stanley Cup Final and Stanley Cup Playoffs on TNT. The inaugural campaign including an impressive 50-game regular season schedule.
"Turner Sports and Bleacher Report have become the home of innovative sports betting content and integrations across all our channels. Our agreement with DraftKings expands and strengthens our relationship, allowing us to further serve fans with the type of sports betting information, entertainment and quick-resolving betting options that we have pioneered."

Raphael Poplock, SVP of Strategic Partnerships, Business Development and Content Acquisitions.
DraftKings is very committed to delivering the best real-money gaming experiences, unique fan engagement and top-notch experiential access. The partnerships are an extension of those ambitions. The NHL will benefit significantly from this. Its fan-first approach, for instance, makes it a great service provider and partner for leagues as well as sports media outlets. It also sets it apart from its competitors who include popular brands like FanDuel.