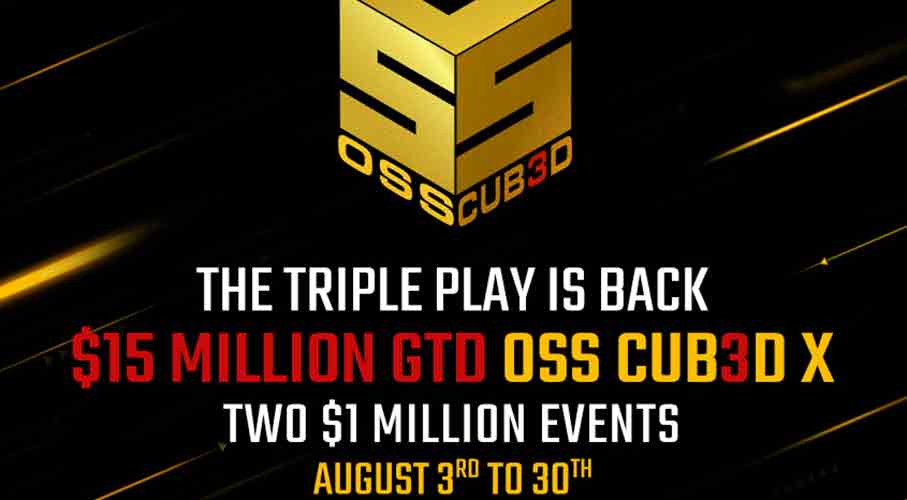 Poker enthusiasts who play on Americas Cardroom have quite a lot to look forward to this August thanks to the operator's Online Super Series (OSS) Cub3d. The online poker tournaments series which has a mind-numbing $15 million in total guarantees will be running from August 3 all the way up to August 30 – poker players and fans can, therefore, look forward to 28 days of some super exciting poker action.
The OSS Cub3d tournament kicks off just after the conclusion of the $7 million Venom tournament which, as expected, also treated poker lovers to non-stop action right from day 1. Just like the event that just concluded the OSS Cub3d will be offering four-weeks of action-packed gaming with some of the most notable highlights being the $1 million guaranteed events. Needless to say, this will shake up the industry quite a bit thus putting the competition on toes.
It will feature three consecutive online poker tournament series that includes the Mini Online Super Series (MOSS), the Online Super Series (OSS), and the Bigger Online Super Series (BOSS). Clearly, there is so much that we have to look forward to. Each of the aforementioned series that will be going down in the course of the month will allow players of different bankrolls to participate.
Americas Cardroom has also been running some daily qualifiers and satellites which will let some lucky players win some buy-in at a discount. This makes the whole thing even more exciting to a part of. Here are the major highlights in a nutshell:
Two $1 Million GTD Tourneys
Three Consecutive Series
$15 Million in prize pools
Featuring the $7 Million Venom
Playing for a Good Cause?
While the tournament series that just launched does not explicitly detail any plans about gambling for a good cause, Americas Cardroom has a stellar reputation in as far as giving back to the community is concerned.
So far, in 2020, the online poker operator has held a total of charity poker tournaments. The first of these was held on April 11 with the goal being to raise funds for food banks that had been affected by the coronavirus pandemic.
The second one was the All-In For Mount Sinai Virtual Poker Tournament which went down on April 15. This celebrity poker tournament was attended by a number of A-list celebrities and all of the proceeds were channeled towards the Mount Sinai COVID-19 Response Fund.
OSS Cub3d might not be primarily be geared towards such kinds of fundraising but its existence is certainly great since it means that lots of people get to keep their jobs. Besides, some poker action is definitely appreciated especially with all that is going on around the world at the moment.