Like clockwork, the United Kingdom Gambling Commission's gaming industry statistics arrived in May thus giving a deeper insight into the country's regulated gambling industry. As expected, the report explicitly detailed various sectors of the territory's very lucrative gambling industry.
The Gambling Commission's gambling industry statistics are published twice a year in May and November with the most recent document detailing statistics from October 2018 to September 2019. Needless to say, the coronavirus pandemic has had far-reaching effects on the gambling industry but the UKGC's most recent report does not detail any of that – this is likely to be the most notable part of the gambling statistic that will be released later this year in November.
Now, considering how diverse the United Kingdom's gambling industry there was a vast amount of data collected for the report. Not all of the info can be covered sufficiently in a single post. However, this does not mean we cannot note some of its main highlights.

When speaking of these highlights, the two biggest areas we have taken note of are the land-based and online gambling sector which largely define the territory's online gaming space.
Overall Gambling Revenue and The Decline in Retail Gaming
Between October 2018 and September 2018, the UK's gambling industry brought in £14.2 billion which was a slight decrease from the £14.3 billion that was recorded in April 2018 and March 2018.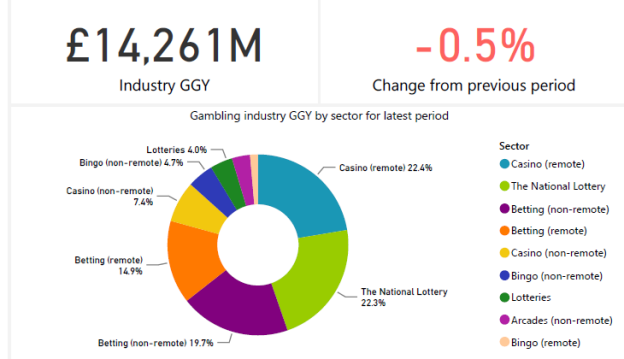 While this 0.5 percent decline might seem rather small, it is quite significant especially considering the fact that without factoring revenue from the lottery, the gaming industry revenue drop is 1.9 percent bringing total revenue in that period to £10.5 billion.

As it turns out, the revenue decline can be attributed to the massive closure of betting shops as well as the reduction of betting limits for such things as Fixed Odds Betting Terminals (FOBTs) in the United Kingdom.
Some of these things were implemented to help in the promotion of responsible gambling practices but they have since had some other far-reaching effects. The commission's industry statistics also show the decline in employment opportunities that arose due to the closure of some retail gaming facilities. There is a 4.4 percent decline that equates to thousands of people who have lost their jobs.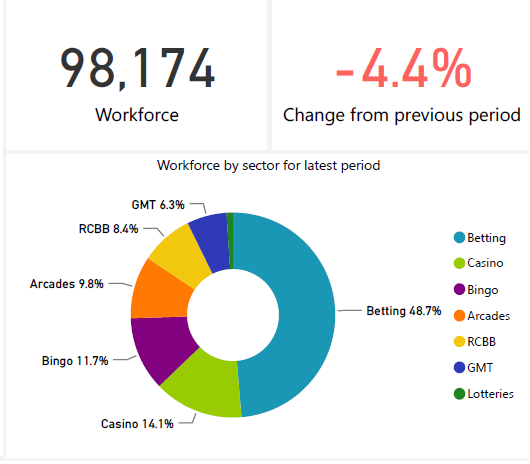 Now, one thing that is still not clear is whether online gambling has also contributed to this revenue decline – according to the UKGC, the workforce figures in their statistics do not include people manning gambling software, trading rooms, and The National Lottery.
The Steady Rise of Online Gambling and Lottery Gaming
iGaming – referred to as remote gambling in the report – has been on the rise all around the world. This can easily be attributed to advancements in mobile technology that we have witnessed over the past few years.
As stated in the report, online gambling in the United Kingdom recorded a 4.3 percent gross gambling yield (GGY) increase from £2.0338 billion to £2.121 billion between periods April 2018 – March 2019 and October 2018 – September 2019. Remote bingo also performed quite well recording an increase of 12.5 percent from £176.1m to £198.1m between periods April 2018 – March 2019 and October 2018 – September 2019.
What Next?
As mentioned earlier, the new industry statistic report that is set to arrive in November will be a very interesting one, to say the least. Retail gambling is obviously going to be the biggest casualty due to the closure of retail gaming spaces since the COVID-19 pandemic hit. Online gambling, on the other hand, seems to have an upper hand but there is certainly more to it than meets the eye. That said, while a number of things can easily be estimated at this point, everyone will still have to wait until November to get more info on how the industry will fair through these trying times.