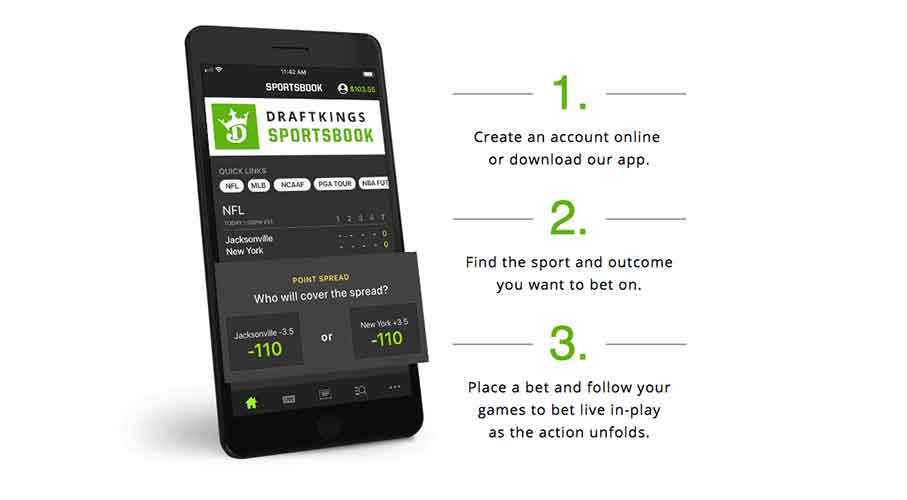 With the rapid growth of sports betting in the United States, renowned fantasy sports provider, and online sportsbook DraftKings has recently revealed its bid to extend its footprint beyond the states that it is currently operating in. According to the company's chief executive, New Jersey has become a monumental part of their business and they are looking forward to cementing the company's presence in that particular market as well other markets across the country. This expansion could begin as early as before the end of the upcoming NFL season.
Speaking of the upcoming football season, it is a pretty important period for DraftKings not just because they are gearing up to enter other sports betting markets but also because they intend to offer sports bets on the NFL games within the states where they are currently operating in. In New Jersey, one of the busiest offerings from the sports betting operator will be its mobile sportsbook which launched a year ago. The mobile sportsbook is a huge part of the company's business especially because it generates close to a third of the DraftKings' revenue in the United States.
Daily fantasy remains a primary focus for the company and the company has plans to improve on these offerings as it expands to other states. However, Jason Robins, the CEO, believes that sports betting is set to become the DraftKings' primary product in the next couple of years or so. As a matter of fact, this might happen even sooner than expected as sports betting in the United States has been growing at a very fast pace.
According to Jason Robins, while the company's Daily Fantasy Sports (DFS) product has shown growth rates of between 15 and 20 percent over the past year, its sports betting operation in New Jersey alone has seen between 50 to 60 percent in growth.
Potential Markets
Pennsylvania's sports betting is among the fastest-growing markets in the US right now and DraftKings would definitely take note of this. The company has since established partnerships with a number of the Keystone States casino operators including Penn National for sports betting. More partnerships are expected to follow soon.
The Keystone State aside, several other states legalized sports betting this year – New York, Iowa, and Indiana are among the most notable new entries into the sports betting market and DraftKings reportedly has its sights set on all of them. For now, the sports betting provider seems to have shifted its focus on West Virginia where it hopes to enter during the NFL season. That is definitely a great place to begin its expansion bid.