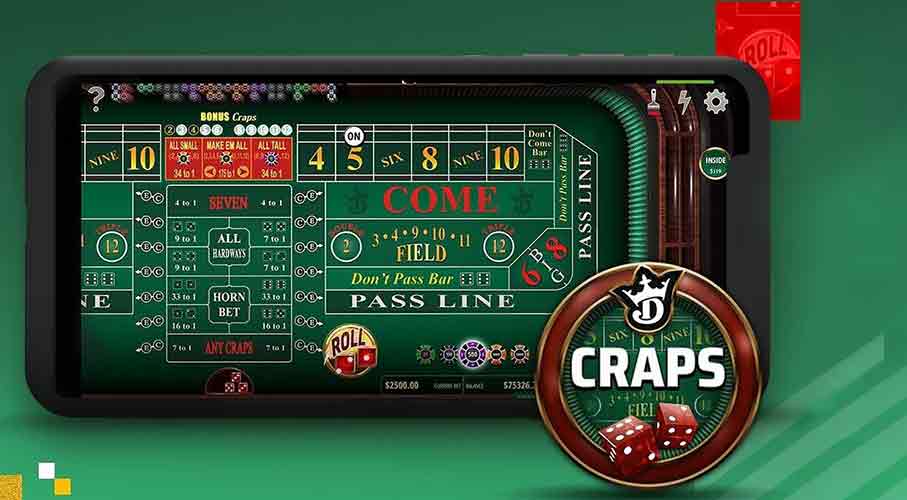 Despite going through a few bad breaks in the recent past, renowned sports betting and daily fantasy sports operator DraftKings has been working very hard to extend its footprint in the American market. The most recent development from the company is DK Craps, a casino game that the company is very confident will be a game-changer for all of the markets where the operator is currently operating in.
As you may have already guessed by now, DK Craps is simply a digital craps game but with the added touch that makes it the unique DraftKings products that it is. The game features amazing custom graphics as well as the usual DraftKings branding.
Filling a Huge Gap in the Market
As it stands, DraftKings is operating in New Jersey, Michigan Pennsylvania, Michigan, and West Virginia, all of which are very profitable markets for the company. These markets, as it turns out, did not have any great online versions of the very popular craps game and thus the launch of a legal option is certainly going to shake things up quite a bit.
The launch began with New Jersey, Michigan, Pennsylvania, and West Virginia with the digital craps games expected to debut in the other markets soon. It is also available for both iOS and Android users.
"As the most realistic craps game on the market, we are excited to offer a premier online experience within our top-rated Casino product. Craps was a challenging game to develop given the seemingly endless paths players can take, so I could not be prouder of our internal teams taking on this game development to deliver an authentic experience."

Jason March, DraftKings Vice President, iGaming.
All the digital craps games that were available before this were all from operators that do not have US licenses which means that DK Craps is the first legal real money craps product for mobile devices anywhere in the US.
Great for Beginners Too
While craps is generally pretty ubiquitous in the American market, it is certainly not the most popular game particularly because of how complex the steps can seem especially for newbies. DraftKings was well aware of how overwhelming it can get for newcomers and thus it has implemented some features that will make the learning curve less steep.
These features include in-game tutorials as well as handy on-screen help prompts that should make learning the ins and outs of the game much easier.