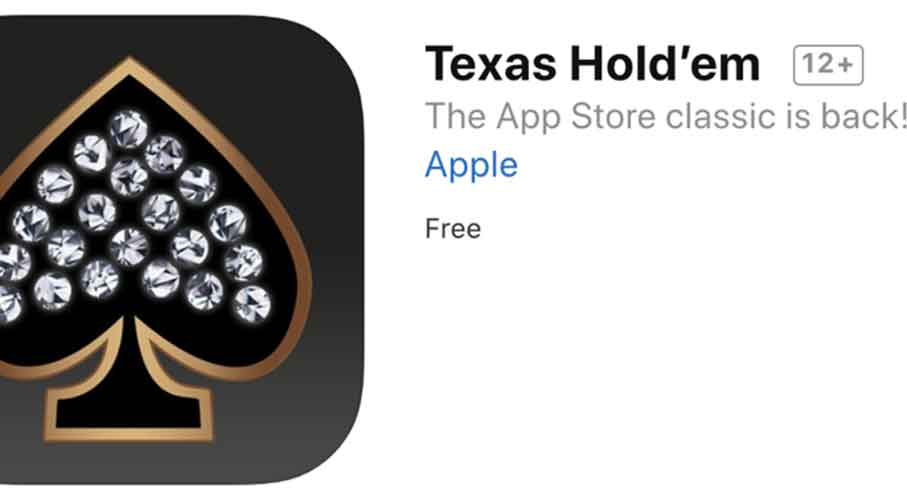 11 years after it was first launched on the Apple App Store, Texas Hold'em, one of the most popular games ever created for the platform, has made its return. This classic game was the first-ever game that was sold in the App Star when it became available on July 6, 2008.
What It Is All About
Texas Hold'em allowed iPhone users to play the game against the computer-controlled opponents or against up to nine human opponents. The only requirement that the connection was over WiFi and all the players needed to be running the app on their iPhones as well. It was originally availed to players who were using the iPod back in 2006 before being updated and added to the App Store in 2008 for iPhone users to download. After its App Store debut, the app received only a single update after which it was left alone, until recently, that is.
What's New?
Dubbed Texas Hold'em 2.0, the game has a redesigned graphical interface which means that it certainly looks better especially on the modern iPhone screens which are much larger than they were a decade ago. In addition to that, the game's animations have received some rather significant upgrades which makes it just as smooth as all other iPhone apps. In addition to that, Apple's Texas Hold'em also now boasts of the 64-bit architecture that was debuted by App with iOS 11.
Also, players and fans will be very happy to know that Texas Hold'em 2.0 is totally free to play, unlike the original version which was being sold for $4.99 on the App Store. Some of the other features include:
Opponents bet, bluff, and have secret tells,
Includes 10 distinctive locations—including Las Vegas, Paris, and Macau,
Winning advances you to the next location,
Bring up in-game hints, tips, statistics, and player ratings,
Texas Hold'em is entirely free-to-play, works online or off,
Play against up to 8 friends with Wi-Fi multiplayer,
Rotate between immersive first-person and top-down gameplay, and
Re-designed, re-rendered, and re-built to use high-resolution graphics that look stunning.
Part of a Bigger Plan
The relaunch of Texas Holde'm is speculated to be part of Apple's plans for the 'Apple Arcade'. The company has recently begun developing games again and this is because of its plans to launch the subscription-based service which allows users to pay a monthly fee for access to a wide variety of game titles in the App Store. The service is set to launch this fall with over 100 games that will probably include Texas Hold'em.